Make your own diabetes-friendly recipes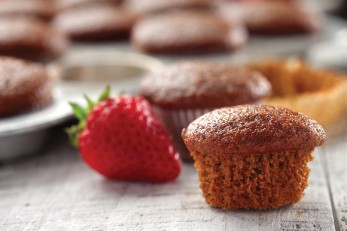 Ingredients:
Yield: 4 dozen. Serving size: 1 mini muffin.
2 ½ cups all-purpose flour 625 mL
½ Tbsp ground ginger 7 mL
1 tsp ground cinnamon 2 mL
1 tsp ground cloves 2 mL
½ cup canola oil 125 mL
1 cup molasses, dark 250 mL
½ cup granulated sugar 125 mL
2 large eggs
2 tsp baking soda 10 mL
1 cup hot water 250 mL
Instructions:
1. Preheat oven to 325 °F (160 °C). Prepare mini-muffin tins with papers. Set aside.
2. In medium bowl, whisk together flour, ginger, cinnamon and cloves. Set aside.
3. In large bowl, vigorously whisk canola oil, molasses, sugar and eggs. Set aside.
4. In small bowl, dissolve soda with hot water. Add to canola oil and sugar mixture, whisking until fully blended. Fold in flour mixture until well blended.
5. Divide into prepared mini-muffin cups. Bake until cake tester inserted into centre comes out clean, about 9-11 minutes. Let cool in pans fully prior to removing.
Notes:
Choices:
Nutritional Analysis Per Serving:
Calories 70
Total Fat 2.5 g
Saturated Fat 0 g
Cholesterol 10 mg
Sodium 60 mg
Carbohydrates 12 g
Fibre 0 g
Protein 1 g
(www.diabetes.ca/diabetes-and-you/recipes/morning-spice-mini-muffins/)